Augusta Youth Leadership Conference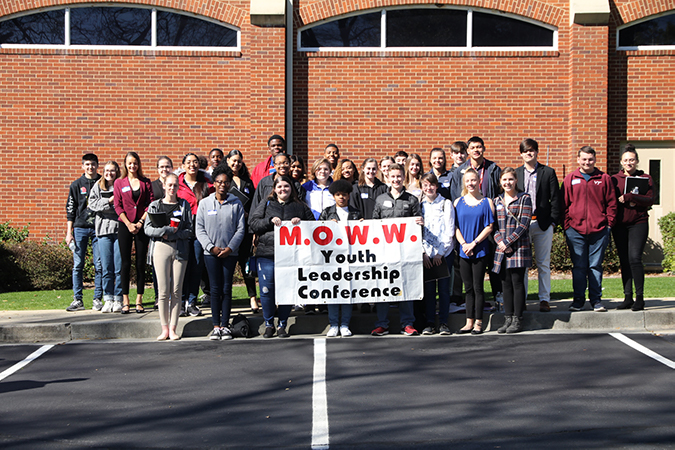 2020 Youth Leadership Conference Student Cadre.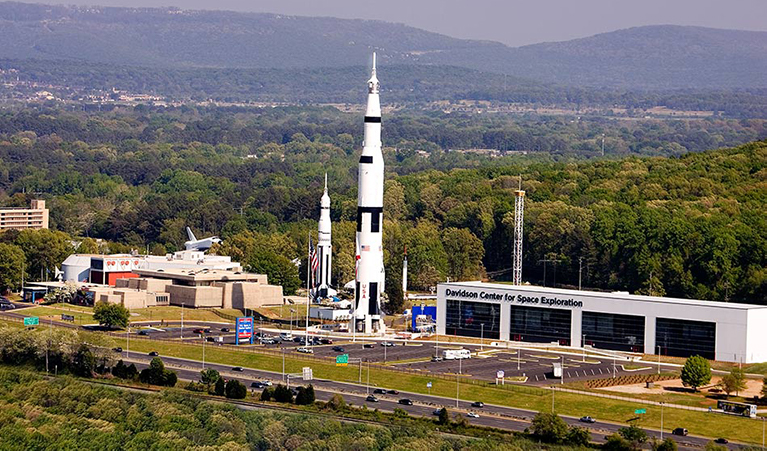 U.S. Space and Rocket Center, Huntsville, Alabama, site of our Chapter's 2018 and 2019 national-level YLCs.
   The Chapter's annual 2-day Youth Leadership Conference (YLC) consists of presentations by local business leaders, elected officials, senior military leaders, judges, authors, publishers, and other notable community leaders; breakout discussions and activities with peers and facilitators; and plenty of good food. The purpose of the Chapter's annual YLC is to help prepare high school students for leadership responsibilities in our open society and free market system, while developing an even deeper understanding of and respect for our traditional American values. Students receive invitations to the conference after being nominated by their high school principals. Conference facilitators identify the most promising students, during the conference, for invitations to national level MOWW Youth Leadership Conferences which have been held on board the U.S.S. Yorktown in Charleston, South Carolina and at the U.S. Space and Rocket Center in Huntsville, Alabama.  The Chapter provides students' transportation to the national level YLCs and covers all food and lodging expenses.     
Memorial Day and Veterans Day Observances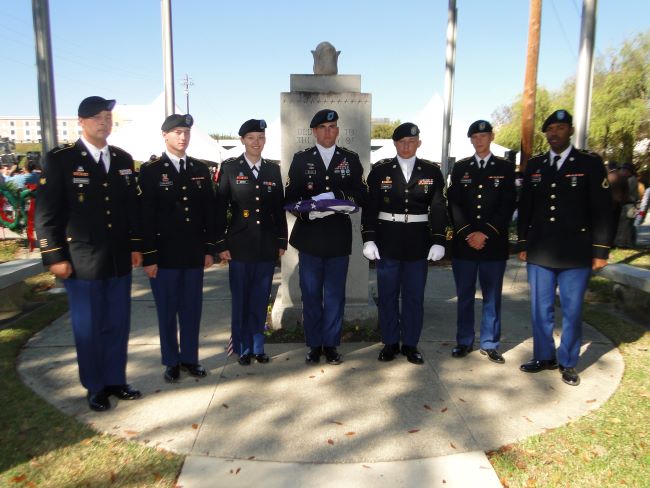 Fort Gordon Honor Guard at the 2014 Augusta-CSRA Memorial Day Observance held at the All Wars Monument, Augusta, Georgia.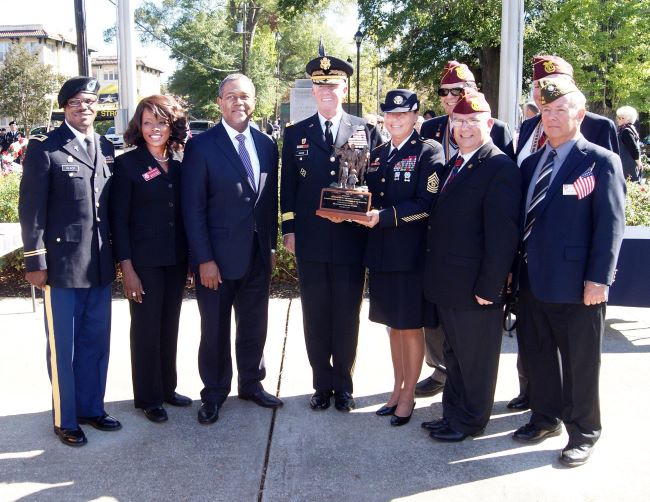 Major General John W. Baker, former Commander, Cyber Center of Excellence and Fort Gordon, receives a miniature bronze replica of "The Three Soldiers" Vietnam War memorial statue, by Frederick Hart, on behalf of Fort Gordon from the Augusta MOWW Chapter's senior leadership.
   Since 2014 the Chapter has sponsored the annual Augusta and Central Savannah River Area (CSRA) Memorial Day and Veterans Day Observances. On Memorial Day we honor those who gave their lives for our nation, are Missing in Action, or have been held as Prisoners of War.  On Veterans Day we celebrate and recognize all those who have served our nation in uniform.  Honored guests for these important events often include the Commanding General of the U.S. Army Cyber Center of Excellence and Fort Gordon, Congressional Representatives (past and present) of Georgia's 12th District, the Mayor and City Council Members of Augusta, and Commissioners of Augusta-Richmond County and Columbia County.
Augusta-CSRA Vietnam War Memorial Initiative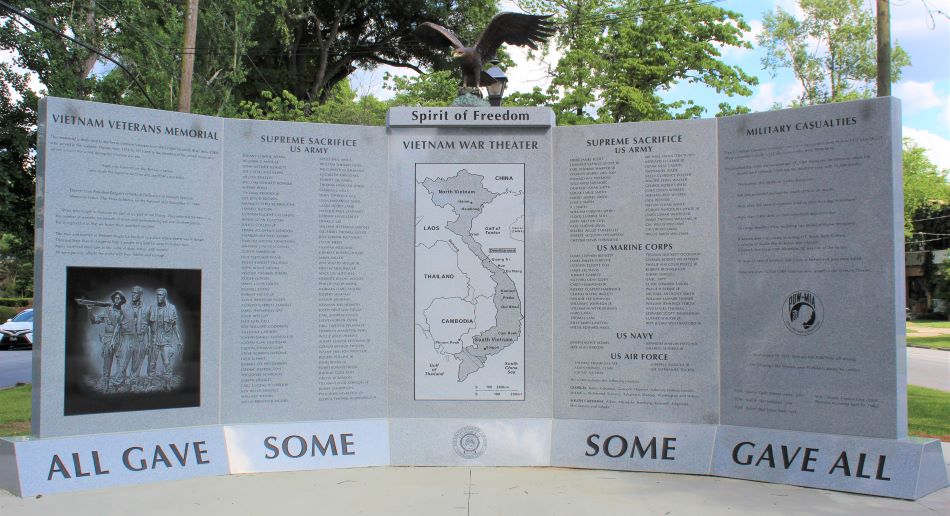 Augusta-CSRA Vietnam War Veterans Memorial (front) in Olde Town, Augusta, Georgia, located on the Broad Street median between Third and Fourth Streets.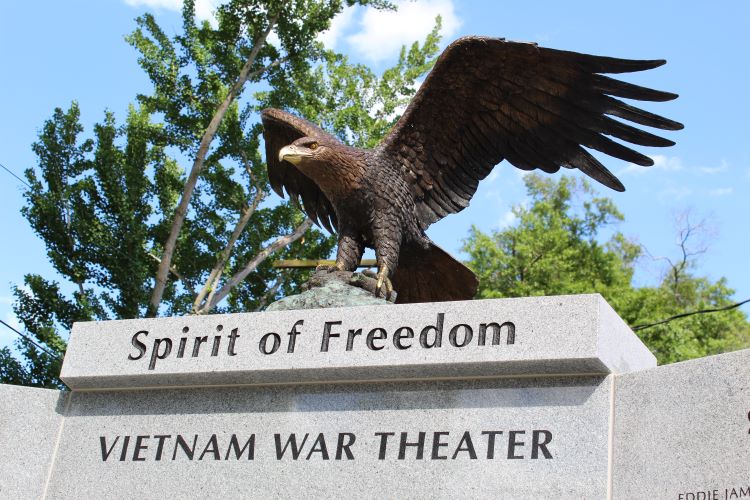 The "Spirit of Freedom" bronze eagle statue, atop the Augusta-CSRA Vietnam War Veterans Memorial, is an inspirational center-piece representing the ideals of American democracy and freedom and the men and women who committed to preserving them.
   One of the Chapter's most significant individual projects was the recent purchase and placement of the Augusta and Central Savannah River Area's (CSRA) Vietnam War Veterans Memorial. The memorial, which honor the region's 169 war dead, 3 Ex-Prisoners of War, and 1 Missing in Action, as well as the 15,000 Vietnam Veterans who live in the region, was unveiled and dedicated by the Chapter on March 29, 2019. This granite and bronze memorial, whose costs were just over $100k, was raised entirely by the Chapter's Vietnam War Memorial Initiative (VWMI) Steering Committee, through private and public donations. The memorial was placed in support of the 50th Anniversary of the Vietnam War (2012-2025) as declared by Congress (Public Law 110-181, Section 598), the Department of Defense's Vietnam War Commemoration program, and the Order's Preamble (Line 8), "To encourage and assist in the holding of commemorations and the establishment of memorials of the World Wars."